January was a busy month at Infinite Fitness, but it might have been busiest for the Athlete of the Month, Daniel Baruch.
Why? Well, in addition to juggling his time in the gym, at the cages and studying the Wheeler High School sophomore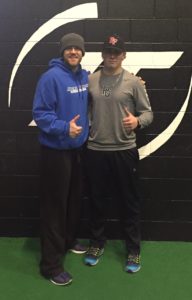 had a big decision to make. Baruch received an offer to play college baseball for Boston College – and accepted it.
The Eagles verbal commit is also a product of the Junior Gulls at In the Zone and received looks from multiple DI schools, but couldn't pass on the chance to verbally commit to New England's ACC team.
"It's good to see a kid like Dan – who comes in and works so hard – receive a scholarship offer from a prestigious DI school so early in his career," Infinite coach Andrew Medeiros said.
It's no surprise Baruch's received multiple accolades, being the top-ranked 2019 New England recruit by Prep Baseball Report, earning first team honors as a Rhode Island Interscholastic League Div. 3 all star and helping Wheeler win the Div. 3 state title.
He's also seen some big jumps since joining the Infinite family, most notably in his exit velocity jumping to 93 mph off his bat.
"What impressed me about [Infinite's] initial evaluation of Daniel is the way you asked him to articulate his ultimate goal—to play high level baseball at the next level—and then worked with him on establishing concrete, measurable fitness goals to put him in the position to achieve them," Baruch's father, Jay said. "To compete on that level, he understood that he needed to become faster and stronger and more flexible, and that involved working muscle groups he didn't know he needed.
"It takes a village, and the opportunity to play at Boston College is a reflection of the extraordinary baseball staff of the Newport Junior Gulls organization, the work with Infinite's talented trainers, and Daniel's work ethic and passion for baseball. As parents, we're so grateful that Daniel found this baseball family who understood him, pushed him, and put his dreams within reach."
Baruch still has three seasons of high school baseball . . . one can only imagine what's still to come for the DI commit.