After going on hiatus for the past few months, Infinite Fitness's Athlete of the Month accolade is back. Our staff would like to recognize all of our fall and winter athletes producing great seasons, including Alex Tisdelle winning another Super Bowl ring at Dartmouth High School, Cassie Graca setting a new personal best in the long jump with a 17-foot leap and all of our other athletes doing great things in the weight room, in the classroom and with their team's.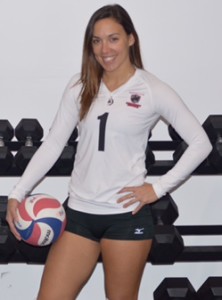 To start 2016 off, we have named Liz Pedro January's Athlete of the Month. Liz is one of Infinite's professional athletes and she earned a starting spot on the New England Midnight Riders of the Professional Volleyball League.
"Liz has put in hard work ever since she started here," coach Nick Friar said. "It's clear that her goal is to be the best she can, and she sets a great example for how our younger athletes should work."
Now in her second year on the Midnight Riders, Liz also competes in beach volleyball tournaments, too. She was nationally ranked as the 6th best volleyball player coed circuit of Volleyball America, and 71st in the Open Level Division of the female circuit, Volleyball America's top division. She also finished 12th in the women's beach double's Grand Prix.
In addition to her drive, Liz recognizes her decision to workout at Infinite to be a pivotal part of her career.
"Being a member of Infinite Fitness is better than any other gym, trainer, and workout program," she expressed. "In a year I have seen monumental changes in my physical and mental fitness, as well as an increase in confidence on the volleyball court. The commitment and effort that the Infinite team puts into my personal growth is reflected by the success I've experienced in the past year."