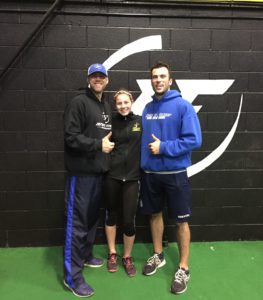 After a season of making headlines, Infinite Fitness is excited to announce Ali Stuessi as November's Athlete of the Month.
In her freshman year Stuessi started at libero for Fairhaven's varsity volleyball squad, helping lead the Blue Devils back to the South Sectional Finals. Stuessi has 249 digs, 386 service receptions, 38 aces and 131 points won off serves in her inaugural campaign at the center of Fairhaven's defense.
Her success earned her an Honorable Mention from the New Bedford Standard-Times.
"The improvement Ali has seen while working with the team from Infinite Fitness has been significant," Ali's father, Scott Stuessi said. "Mike and the team have set forth a plan that incorporates physical, mental and nutritional/recovery goals for her. This has led to a more confident player on the court.
"Ali's serving velocity, on the court movement and strength to keep a low position while playing defense have all seen significant improvement."
On top of all her success, Ali started strong in the classroom, maintaining a 3.9 GPA to start her high school career.
"Ali is a perfect example of a young athlete who knows what she ants to accomplish and the effort required to make it happen," coach Mike Fernandes said. "With a busy schedule and living almost a half hour away from the gym, Ali still made the time to train during the season because she understands how important it is to her continued growth and success as a volleyball player."