With basketball season well underway, Infinite Fitness is excited to announce Abby Pickup as 2016's final a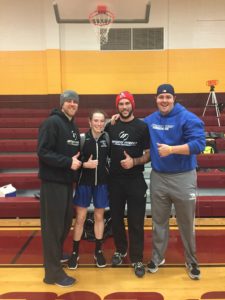 thlete of the month.
The Fairhaven freshman wasted no time making a splash on South Coast basketball, scoring 17 in her first contest. The off-guard has been the leading scorer for the Blue Devils, averaging 12 points per game and leading her team in scoring all but once so far.
"Abby comes through the door every time ready and willing to put in the work that is required out perform other athletes and play at an elite level," coach Mike Fernandes said. "It's no wonder why she's the leading varsity scorer as a freshman."
On top of that, Abby continues to make progress in the weight room, all while taking honors courses and maintaining a 4.4 GPA.
"The coaches at Infinite Fitness have been outstanding," Nate Pickup, Abby's father, said. "Mike and his team have done a great job with Abby developing her goals and then creating an individualized program to help her achieve them. They have strengthened Abby both physically and mentally over the past 6 months.  She has made tremendous strides in her development as a basketball player and Infinite Fitness has been an integral part of her success."