Adult Success Stories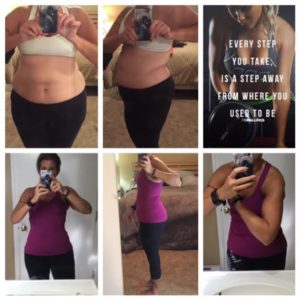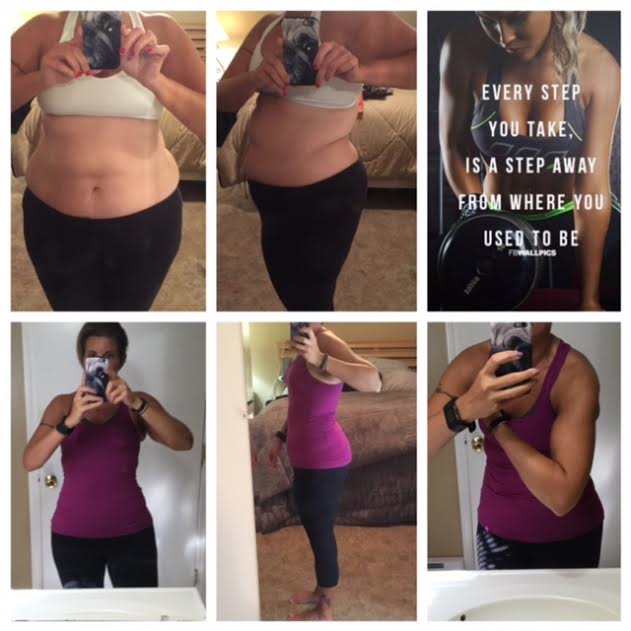 Amy has lost over 100lbs since she started
Here's what Amy had to say about her experience"
"My entire life has changed and I have Mike and his team to thank for that. Without them I could not have gotten this far.  I eat better, I sleep better, and I am a much happier person. If I could say one thing to those people it would be, step out of your comfort zone and make the commitment, you owe it to yourself, I promise it will be worth it!"
---
How about Jen…  Shes lost over 50lbs just by putting forth the work and following the step by step plan.
Here's what she had to say  about the program "I was shocked at the amount of food I could eat and still lose weight.  It's all about making the recommended choices and the weight just fell off.The recipes were really delicious and easy to follow even once the first 28 days were done."
---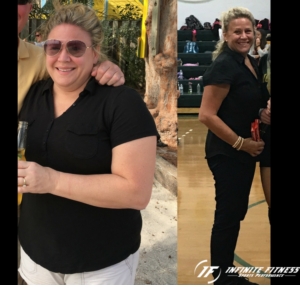 Lori's lost over 50lbs too!  My story probably sounds familiar to many.  Diet/exercise  ..lose and gain back?? Right?? I've done this many , many times and tried many different diets. Excuses..of course…kids, work and my favorite "no time". Well our body finally responds with fatigue, sore back and joints and even shortness of breath. Isolation and low self esteem also creep in.
After about a year away from Infinite Fitness I came back and set some goals with Mike.  He started me on a nutrition and training program. I saw results and stuck with it.  Diet and food choices are key for me. The Infinite Fitness coaches are wonderful, always positive and very encouraging. The whole Infinite family and members are special. The atmosphere is always upbeat and supportive.
I feel very fortunate  and am especially appreciative to have a wonderful fitness family and support system.
Thank you and much love,
Lori
---
At 51-years-old, I was obese, unhealthy, and feeling exhausted and uncoordinated.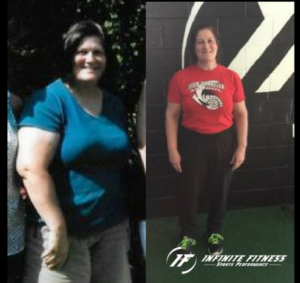 Never once has Mike or his team shown anything but complete confidence in my ability to make life-changing improvements in my strength and health. He has helped me set challenging yet attainable goals and has continued to inspire, motivate, and (when needed) push me to move forward.
Mike still takes the time to personally greet me and he checks in with me regularly to see how things are going in my life. I am well on my way to getting healthy and fit.  I have built muscle, burned over 60lbs of fat.  My strength, coordination, flexibility, and endurance have all dramatically improved and I now feel more confident.  
The exercises I used to watch others do, in awe of their strength and coordination, are now the exercises I can do.  I still have a long way to go to reach my goals, but I know I will reach them.  I will never play on a high school or college team, and I will certainly never be a professional tennis player, but at almost 53-years-old, I am an athlete.  I will be forever grateful for the life-changing training I am receiving from Mike Fernandes and his team!  I am moving ahead with hope- the doubt is gone!
-Karen
---
Since starting to work with Mike I have conquered my fitness struggles and looking back at over 50lbs of fat lost as well as all of the things I have mastered I feel a great sense of accomplishment.
I do not know where I would be if I never joined Infinite.
-Gualter
---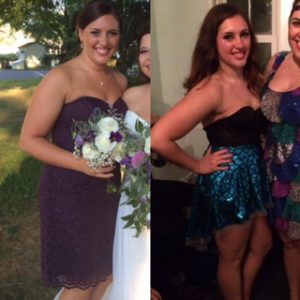 Since I started working with Mike and his team, I've felt more confident about who I am and who I strive to be.   I had been  facing difficult life changes. I was not happy, my confidence and self-esteem were low, and I was often down on myself for not being more. The support and assurance I get from them has made me believe in myself again.
I now have more energy, positivity, and a greater outlook on my life. Physically and mentally, I feel stronger and better than ever before!
– Cat
---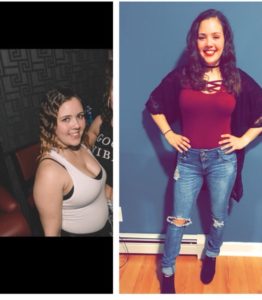 "My experience with infinite has been awesome ! I started as an unmotivated person who could never get myself to the gym. Here I am 3 months later , 2 sessions a week and striving every time to push myself harder (even at times where it gets too hard)!!! This isn't your typical gym where the person at the desk greets you and that is the last interaction you have. This is a family where we all push each other to be the best version of ourselves. I can't express how thankful I am to have Mike, Robbie, Andrew and Ben by my side through this journey!"
— Meredith
---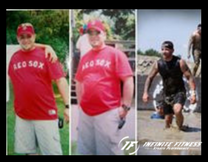 This place is fantastic! My journey begins with me being in my mid 30s overweight (220 lbs) high cholesterol, aching joints especially the knees, and feeling like garbage all the time and my doctor telling me I was very unhealthy and I needed to make a change. Yes I lost weight on my own but it was a
battle over a few years being inconsistent with my weight didn't know if I was doing proper workouts and diet trying everything from t.v. programs in and out of numerous gyms until I finally injured myself and ended up on crutches with bursitis in my right hip. Ready to give up and honestly this maybe isn't for me, I gave myself one more shot that's when I walked into Infinite Fitness Mike did a full assessment on me and pin pointed the problem with my hip. Within 6 weeks of doing correctives and proper training I ran a 16 mile spartan race in Mount Killington, Vermont and placed 600 out of almost 12,000 racers! I am very happy being a member at Infinite Fitness. Mike has taught me injury prevention through correctives before training and proper one on one workouts designed for your needs whether your an athlete, looking for weight loss, or just a person looking to live a healthier lifestyle. This is the place where my health has been consistent and it feels great to walkout of your doctor's visit and be told your health is fantastic and not only that being with Mike the past few years I also get to see athletes develop seeing them take the next step to there dreams also seeing members losing weight and sharing there journeys also even getting to workout with some of the young athletes. This place is not just a gym it's a family and Micheal Fernandes is the true meaning of COMMITTING TO SUCCESS! !!!!! Thanks for everything brother!!!!!!
— John 
---
I originally came to Infinite because My doctor had recommended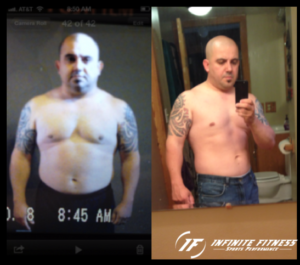 shoulder surgery. Mike had been training my son for some time and I knew he knew a lot about the shoulders because of all of the high level baseball players he trained.
I asked him to take a look a look and he said Louis I think I can fix it. Give me 6 weeks. Week by week my shoulder started to feel better and by the 6th week is was almost gone. I avoided surgery and lost 25lbs in the process! Working with Mike and the Infinite team was the best decision I could have made!
Louis
---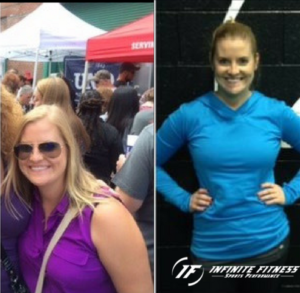 Working with Mike and the Infinite team has forever changed my life. When I first started I was not happy with how I looked or felt. However in a few short months I have lost 25 pounds and I feel amazing. My body has completely transformed and toned up. I now know how to eat and train right and I'll never go back to where I was because this just feels too good! I am forever indebted to Mike.
-Courtney
---
---
I had never faithfully until I started at Infinite.  A teacher I worked with told me about it so I decided to give it a shot. It was difficult but I stuck with it and in just 4 weeks lost 5% of my body fat! I was inspired to continue working with the Infinite Fitness family. It was hard but each week I was getting stronger, firmer, losing inches and pounds.  I do not like to exercise but the team at Infinite Fitness motivates me to keep reaching for my goals. Every single staff member helped me to move forward towards my goal. It has been 5 months and I have lost 50 lbs!!! !!!  I have way more energy and look better than I have in four years!!! I highly recommend anyone wanting to make a positive change in their life to join the Infinite Fitness Family. They are there for every aspect of your fitness goals. You will receive nutrition counseling, one on one training and you will reach your goals and beyond.
–Sheila  
---
It was the beginning of July, and the police department that I was working for told me that I'd be going to the full-time police academy in September.  I knew that there was a huge component of fitness at this particular academy and was concerned because I was 34 and would be one of the older recruits in the academy.  Something had to be done to get my cardio up to speed to compete with 20-year-olds.
I looked into various gyms, but one in particular caught my eye — Infinite Fitness.  They offered individualized workouts based on a pre-screening process.  They weren't going to give me a cookie-cutter workout that wouldn't meet my individual needs.  They also offered personal training at each session at no additional cost.  It was extremely important to know that any and all questions I had would be answered by highly qualified individuals.  I appreciated that the staff at Infinite Fitness not only talk the talk, but also walk the walk.  It's disheartening when you go to a gym and the person "training" you doesn't look the way you want to look after you've paid to be there and have sweat your butt off.
Mike, Kyle and the Infinite Team were instrumental in assisting me push myself each and every workout.  The individualized plan that Mike came up with for me really took into account where I wanted to be prior to entering the academy.  The plan also changed as my body changed and allowed me to continue to move forward towards my goals.  They were there beside me on the floor with other patrons pushing each one of us.  The entire team has a very positive attitude and want you to succeed as much as you want yourself to succeed.
I had less than three months to whip myself into shape.  I wasn't a slouch to begin with, but my cardio and stamina was severely lacking.  The exercises that Mike put into my plan allowed me to increase not only my cardio but also my strength training.  It was a very well rounded workout.  I gained in muscle mass and shaved minutes off my run times.  The results that I had only imagined in the first few weeks were coming to fruition as the last couple of weeks were upon me. 
September came and, needless to say, I felt very well prepared for the academy.  As the academy began, I found myself keeping up with the 20-year-olds at 34 years of age.  I wasn't exhausted or spent after a workout like some of them were.  I continued to push myself, keeping the positive feedback and motivation that the team would shout in the gym in the back of my head.  Twenty-one weeks later, the academy ended and I was awarded the Top Physical Training Award.  I graduated from an intense academy with 56 other recruits, and I had beat them all in physical training.  I give Infinite Fitness all the credit.  If it weren't for their motivation, their dedication to me as a valued member, and the discipline they instilled into my workouts, I wouldn't have accomplished what I did.  Thank you Infinite Fitness!
Respectfully submitted,
Officer Robert Rebello
---
I've seen more results in my first 5 weeks at Infinite Fitness than in a year of cardio and treadmill work.  The staff is knowledgeable and fun.  The vibe is warm and inviting. Finally, something different that works and is a great place to be.
–Kim
---
Since I have been training at Infinite Fitness I have experienced some amazing changes; I am 18lbs lighter then I was when I started. I recently went to two physicals and upon having my doctor enter the room the first thing that she said was "wow you have lost a lot of weight. I did not even realize that I was 18 lbs heavier when I last saw her. I also went to another doctor my primary care physician whom I see every six months and she too noticed the weight loss but most importantly she was very pleased with my blood work. In the past my bad cholesterol was elevated not to the point that I required medication but concerning enough. Her comment was that my blood work was "perfect" and whatever I have been doing to continue it. Needless to say I was ecstatic. We all want to see results when we work out and make changes in our diet and the above just confirmed for me that I am on the right track. These changes have occurred since training with you.  I should tell you that although I have not exercised regularly throughout my life I have from time to time joined gyms and have gone to the gym on a semi regular basis. I was a member of another gym for at least a couple of years and never experienced significant results. I am one of those folks that can get on a treadmill even if I have not exercised regularly and do a 45 minute walk at a brisk pace. That is basically all that I did at the gym. I never felt comfortable using weights or other equipment because I did not know how and found it extremely intimidating. As a gym member I was entitled to two to three sessions annually with a personal trainer and I utilized one of those sessions for guidance around using the other machines. I felt that I was bothering the trainer and did not utilize any other sessions.  Thanks for your support and guidance. It is obvious to me how passionate you are about fitness. You are a fabulous trainer.
—Ana
---
I had gone to many gyms and tried a ton of different methods to lose weight and get in shape all of them had been unsuccessful.  You sign up and become just another member.   A friend of mine recommended Infinite because of the hands on help you provide with everything, from the training sessions to the nutrition and the program design.  I must admit I was very nervous about signing up but I am so thankful that I did.  It's obvious that you truly care about seeing your clients succeed.  I have lost almost 15lbs and 5% body fat in my first two months and can honestly say I've never looked forward to working out like I do now.  I want to thank the Infinite Fitness Team for all of your help.  I am a much healthier and more confident because of all of you!
         –Donna
---
I can't do it! That's what I said 6 short weeks ago. My how that has changed, I had been referred to Infinite Fitness because I was told that Mike would take my back pain into consideration and help create a plan that was specific to me – something I had never received. I had lived with back pain for most of my adult life but was starting to feel even "older" than my  40 years and had limited mobility. Bumps in the road while driving would cause my back to spasm – a challenge since I would need to drive an hour to the gym. I was seeing a chiropractor regularly. I had frequently thrown my back and had to visit the chiropractor up to three times a week. I appreciate the short term relief the chiropractor offered but was frustrated by having to go so often. I figured I had nothing to lose and wanted to gain a life where I could run around with my young daughter instead of watching her from afar. Six weeks ago I physically would not have been able complete some of the exercise that Mike and his team now have in my plan.  They knew exactly where to start me after my success session so that I could strengthen my back and core slowly. His entire team is knowledgeable and helps to challenge me with new exercises. They push me to my limits but stay within the limits of my back issues. They really know their stuff!! I can't believe the range of mobility I have after these six weeks, even my chiropractor was surprised. I am now visiting the chiropractor in three weeks. More importantly, I am completing exercises that I never imagined I could do. I am no longer saying that I can't do it; instead it is "when can I do it?" I highly recommend Mike and the staff at Infinite Fitness. They will work to create a personalized plan that takes your health issues into consideration and even work with your doctor. Start your journey to good health with them and you won't regret it!!
-Patricia
---
The encouragement and support I received from the team of trainers at Infinite Fitness provided me with the confidence to take pride in my physical abilities.  Five months before my wedding I came to the trainers at Infinite Fitness asking for their help in shaping my body for the big day.  I felt as though they understood my goals right away and immediately began assessing my workout routines and diet to help me achieve them.  Throughout each phase of my transformation the team was thorough in explaining how the workouts and changes in my diet would make me look and feel great. I couldn't believe when I went to get my dress and they said OMG you've lost weight.  At first I was nervous because my dress was now too big and had to be re-altered.  However once that was done I couldn't have been happier as I lost even more than I thought I could!
Thank you to the Infinite Fitness Team!
– Erin

---
I've been training at different gyms for over 40 years and the guidance and support I've gotten at Infinite Fitness is by far the best.  The help I received to fix my shoulder  was outstanding and I'm now back doing MMA training pain free.
-Mike Moynahan
I joined Infinite Fitness at the end of this summer 2013. I was really out of shape and tired all of the time. I didn't think that I would be able to complete the strength training exercises that had been designed specifically for me.  But, with guidance and encouragement from the Infinite Fitness Team, I have been able to accomplish much more than I ever thought possible. Three months after joining, I have increased the strength in my arms that had been one of my weakest points. They are now slimmer and have muscle definition.
At the end of this past spring, I had bought a pair of jeans that were too tight and could only get halfway up my thighs.  I wore those jeans this weekend. They slipped right up past my thighs and hips, and the zipper slid up effortlessly.  Three months of exercise at Infinite Fitness has changed my life.  I have more energy, strength, and less body fat.
Thank you Infinite Fitness. I couldn't have done it without you!
-Joanne  
---
Let me first start by saying thank you so much.  I have come so far in such a short time.   I have some ways to go, but I know I will get there.  Back in November,  I was hesitant to join.  I am so glad I did.  The money on the membership is well spent.   I still hold a 10 $ gym membership that I sometime use on the days I dont go to train.  After a day of drama and stress from the office I need to decompress.   After an hour walking on the treadmill, I don't feel as good as being at Infinite Fitness.
I enjoy the strength part, but really enjoy the sat morning metabolic group training.  This is as far outside of my comfort zone as you could get.  I am not one for sports and such nor did I like gym class.   I was the one that was last picked for every team game. (Dodge ball was brutal, literally.)
I do want to tell you that I go to a chiropractor once a month.   He has noticed a big improvement in my mobility. I owe that to the team at Infinite Fitness.   The instruction and direction you all give goes beyond what words can express.
-Jason
---
 I want to commend Michael Fernandes and thank his team at Infinite Fitness for the professional training and support they've given me. I went to them for help, specifically, for my left shoulder and arm. Damaged and debilitated from past injuries, an MRI had identified two torn tendons and areas of inflammation. It was affecting my overall athleticism, and specifically weight training and swimming. Two separate attempts at physical therapy had been unsuccessful.
At age 68, weighing 120 pounds and healthy I was not about to give up swimming but I was frustrated until I met Michael and his team.  After a thorough assessment of my current condition, a regimen of corrective, strength and balance exercises were scheduled. Floor, free standing and gym equipment were used in the workout.
Over time and without pain or discomfort my shoulder slowly started to heal and remarkably enhanced my physical strength and balance. It was hard work but they taught me the discipline of following classic techniques and correct postures during each session.
 I told the staff if I could swim again I would come back and kiss their feet. Well, I haven't done that yet, but when I swim in the sea I think about how important it is to take a chance and put your trust in people who really value their profession and constantly educate themselves in both the art and the science of training and healing.
-Jane Godfrey
---