After a month of dominant play on the gridiron, it was almost too easy to name Jason Medeiros as Infinite Fitness' newest Athlete of the Month.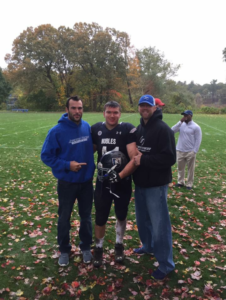 In his first year at Nobles and Greenough, the junior running back has been a standout. In his 7 games he's been handed the ball 63 times and rushed for 552 yards. That's 8.8 yards per carry. He's rushed for 100 yards in three games and even managed over 200 once.
"Infinite Fitness and Mike Fernandes have immensely improved my performance on the field and in the weight room," Medeiros said. "The ambiance in Infinite is both amiable and congenial. I can attribute much of my success to the Infinite team. Mike is passionate about his profession and is committed to every athlete's success. Mike exemplifies the role of a sedulous person. He altruistically has taken time to observe a few of my football games over an hour away from his home. He pushes his assiduous athletes to achieve their goals. Without the positive influence of Mike and his team, I would not have been able to achieve what I have today. I hope to continue my collaboration with Infinite Fitness in the foreseeable future."
Medeiros has found the end zone 8 times, as well as converting one 2-point attempt. In fact, he's in the top-10 in scoring in the Independent School League. He's also done well on defense, with both a pick and a forced fumble on the year.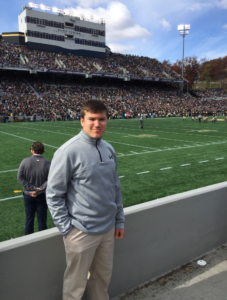 "We would like to thank Infinite Fitness and Mike for creating a family environment that has helped Jason pursue his goals," Jason's father, Rick Medeiros, said. The mentoring, visibility, and support, he has received from the Infinite Family is extraordinary. Mike and staff have taken personal time to visit and support him at various school events. Jason has taken on his latest challenge at Nobles and Greenough with his typical drive and desire to be the best.  Combined with Mike's support and leadership it is a recipe for future success. Thanks for all you do and we can't wait to see what the future brings for Jason."
Medeiros even earned an invite to visit West Point, where the Division I recruit spent time with Army's football coaching staff.
The star running back continues his hard work in the weight room despite going away for school, and will be back on the floor at Infinite in the next few weeks.